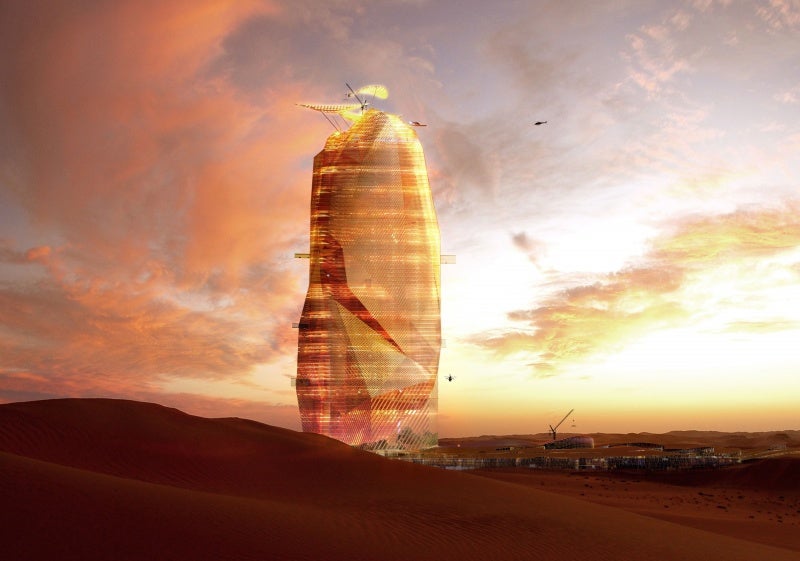 Desert arcology. See links below.
I recently finished Paolo Bacigalupi's novel
The Water Knife
. Bacigalupi is one of the science fiction authors writing about dystopian futures based on what you can read in any current article about peak oil, climate change, water scarcity, and numerous other problems popping up in today's headlines.
The story takes place in the Southwestern United States at an unspecified time in the future. The setting is the triangle from Las Vegas to Phoenix to Southern California. To be honest, I had no idea how close all these cities are geographically. Although the United States still technically exists, most states have closed borders and are self-contained.
In the future of the book, Las Vegas has managed to thrive by a cutthroat completion to gain water rights and cut them off from surrounding communities and even distant cities. Much of this is due to Catherine Case, a ruthless manager of the Southern Nevada Water Authority. Case's first line of defense of water is through sharp-elbowed legal maneuvers in the courts to get water right procured for Vegas. If the lawyers succeed, communities are cut off with extreme prejudice. If they don't, well, extra-legal means are pursued. Bribes, extortion, murder, even blowing up dams, it's all how the game is played for water rights in the future. Case, although technically a bureaucrat, is the
de-facto
ruler of Vegas with her own private army, including her own secret service of "water-knives"-- exrtralegal mob-style enforcers who work at her beck and call.
The race to stop Las Vegas from running dry
(Telegraph)
How federal dollars are financing the water crisis in the West
(ProPublica)
The main character, Angel Velezquez, is one of these. Although Angel was born in Mexico, his father, a policeman, fled north to escape the "cartel states." His family is murdered by vengeful gangs, and Angel winds up in prison where he is bailed out of jail by Case who recruits her water knives by selecting reformable prisoners.
The SNWA is a virtual empire with it's own army complete with helicopters and gunships. As the book opens, Angel rides along on a helicopter on a mission out into the desert to cut off the water supply from a community on the border whose rights have been transferred through technically-legal means. The city's water plant is destroyed and its chief engineer kidnapped and hauled away back to Vegas.
In the cities themselves, upper-caste people (called 'fivers' for their five-figure incomes) live in luxurious "arcologies," -- hyper dense, enclosed, ecological communities where everything is recycled - essentially high-tech lifeboat communities. They are triumphs of biological engineering: all water is recycled, all wastes are harvested and reused, and electricity is provided by solar panels and windmills.
French Design Firms Imagine An Arcology In The Sahara
(io9)
NOAH: Mammoth Pyramid Megacity for New Orleans
(Inhabitat)
Unlike the grim existence outside, arcolgies are depicted as luxurious, with multi-story atriums, waterfalls, walkways, hanging gardens, temperature controls and large-screen televisions. The arcologies are built by giant Chinese conglomerates, as China is apparently the only country with the resources and technical knowhow to build them. Street vendors sell to Chinese workers and Chinese currency circulates as an informal means of payment.
The second major character is Lucy Monroe, a Pulitzer-prize winning reporter living in the hardscabble suburbs of Phoenix who peddles collapse porn from the decaying city. News is consumed primarily online via tablets; Google and Twitter are still there, and she uses the hashtag #phoenixdownthetubes for her stories. She lives with her dog in a rundown squat powered by stolen solar panels, but it's still doing better than the miles of abandoned and derelict suburbs surrounding the city where the water has been totally shut off. One of her friends is a photographer who works for the "blood rags" documenting the body count from daily gang violence and the coyotes who ferry in refugees from Texas.
Texas has apparently completely collapsed, and the holly-roller religious fundamentalist Texans have been dubbed "Merry Perrys," a clever shot at the Texas governor's
entreaties for his citizens to pray for rain
. They are the bottom of the social order.
One of these Texas refugees in Phoenix is Maria Villarosa. Maria and her father surreptitiously crossed into Arizona looking for a job working on the arcologies. He's since died and Maria is now on her own living in the refugee shantytowns with her best friend Sarah. Sarah is one of the many Texas refugees who turn tricks for a shower and a place to wash her clothes (Texas bangbang girls). Maria fills up at the gas-station like water dispensaries that parcel water by the liter using dynamic pricing. She buys it cheap and sells it dear to he workers at the Arcology, alongside a
pupusa
vendor named Toomie, who's taken her under his wing as a surrogate father figure. Maria and Sarah are in hock to one of the gangsters who run the lawless refugee camps around Phoenix nicknamed "The Vet" who keeps a pen full of hungry hyenas to feed people to.
When rumors surface of a new game-changing water source, Angel is sent to Phoenix in his Tesla motorcar to find out the score. Case won't let a water source surface without going after it. The source centers around
Prior Appropriation water rights
. If these rights supersede others, it could be a game changer. Everyone who has gotten their hands on them has wound up dead, in some cases gruesomely. Lucy's friend Jaime, a water engineer who claimed he had the rights, turns up mutilated in the morgue along with hundreds of refugees whom the coyotes have dumped in the desert. Angel teams up with Lucy while staying one step ahead of the
Calies
- California spies (clad in suits), and the unknown thugs who killed Jaime. Maria, desperate to pay off her debts to the gang leader, agrees to participate in a threesome with her friend Sarah. The customer is a water engineer named Michael Rattan who lives in the arcology and has come into possession of the rights. Rattan is killed, with Angel helping Maria to escape. She gives him just enough information to find the killers, who have taken Lucy hostage and threaten to make her their next victim unless Angel can figure out who has those rights.
I'll stop there with the the plot. As with the Windup Girl, Bacigalupi excels at the "show, don't tell" approach by dropping us into this future world and letting us figure it out as we go, slang and all. It's a bit easier this time around thanks to the American setting. The plot, however is the downside. It feels like a second-rate Hollywood movie, from the plot to the characters. The book
Cadillac Desert
is referred to frequently throughout, and ends up playing a role in the plot.
I would have preferred something more like the narrative of the movie
Traffic
, with the water crisis examined from a series of different perspectives rather than just the sharp focus on a handful of characters. That movie does a good job of examining a complex problem with a variety of interlocking stories that play against each other.
In any case, desperate refugees trying to get across borders is uncomfortably real right now. While the proximate cause might be wars and civil breakdown, a deeper look reveals that environmental destruction and water scarcity are underlying factors.
We're All Warboys Now: Water Scarcity and Conflict in the 21st Century
(Medium)
World without Water: The Dangerous Misuse of Our Most Valuable Resource
(Spiegel Online)
As Ian Welsh
said recently
:
I want you to realize that this sort of thing will be the norm when climate change really gets going. Drought, starvation, rising sea levels: The migrations will be vast.
The Water Knife is a view of what could happen here.
BONUS:
Solarpunk wants to save the world
(Hopes&Fears)